Pink/Green Star Wars: X-Wing 2nd Edition Dice (Non Official, Casual Play Only) Xwing 2.0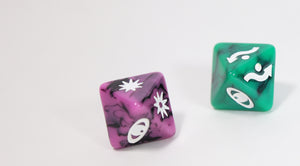 Custom space fighter dice for casual play.  A set of six (6) total dice.  Includes three (3) attack and three (3) defense dice.  These are a custom color, marbled pink/black for the attack dice and marbled green/black for the defense dice.
This is not a stand-alone game. A copy of the X-Wing Miniatures game required to play.  These are custom dice, not official dice.  A very limited number of these have been produced, get yours before they run out!
These are fan-made dice.  We make no guarantee as to the accuracy, randomness, etc of the dice.  Buy and roll at your own risk.