Kongo Battlefleet Set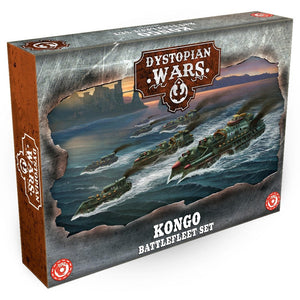 THIS IS A PRE-ORDER ITEM.  IF YOUR ORDER CONTAINS ANY PRE-ORDERS, YOUR ENTIRE ORDER WILL BE HELD UNTIL THE PRE-ORDER ITEMS ARRIVE.
Of all the Battleships upon the seas in the last 50 years the Britannia Class of the Crown has been considered the heaviest. That is until the Empire launched the Kongo Class Heavy Battleship. One of the deadliest warships to ply the seas of the Dystopian Age, the Kongo is crewed by some of the finest sailors in all of Japan. The design of this behemoth was always aimed at making it as armoured as possible while still retaining speed and manoeuvrability as much as the best Japanese naval engineers could manage. Named after a legendary mountain in the Osaka Prefecture, this vessel truly lives up to the name. With thick armour plates and formidable weapons the Kongo class are the pride of the Japanese fleet.
The supporting cruisers that are assigned to Battlefleets alongside the Kongo vary greatly. From the imposing Hokkaido Heavy Cruiser down to the nimble Kanagawa Monitor there is a cruiser variant for every mission. Japanese Cruiser groups are typically accompanied by Chita Submersible Automata. These engineering wonders are equal to the mechanical creations of the Covenant of the Enlightened and are used to protect the fleet from threats beneath the waves as well as assisting in assaults. While the Chita are designed to operate independently for lengthy periods, they lack the endurance of the much larger Kaiju class automata. Ishikawa strike cruisers and Yamaguchi Attack Cruisers are essential in maintaining these escorts far from a drydock, their moon pools enabling repairs and refuelling of the Chita to take place.
The Okinawa and Miyagi Class Cruisers are equipped with limited numbers of reconnaissance aircraft that act as spotters and limited aerial defence. When needs must they can also perform bombing runs on enemy shipping but usually only when supported by other aerial units.
The Japanese favour Kyoto frigates when running their patrols between the far-flung
islands of their homeland. The vessels are ideally suited for this task and for new sailors a year on a Kyoto is their first experience of the proud naval traditions of the Blazing Sun.
The Kongo Battlefleet Set builds eleven multi-part plastic & resin miniatures;
1x Kongo Heavy Battleship
2x Osaka Cruisers

Each Cruiser can alternatively be built as either Kanagawa, Hokkaido, Okinawa, Miyagi, Yamaguchi, Ishikawa or Honshu Cruiser

4x Kyoto Frigates
4x Chita Automata
2x SRS Tokens
Please note:
Miniatures are supplied unpainted and some assembly will be required.
Unit Cards are not included and can be found on the Dystopian Wars website.