Ning Jing Battlefleet Set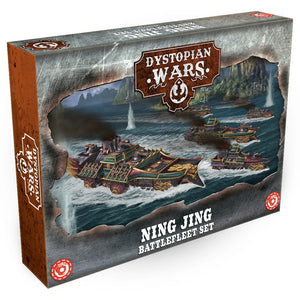 The Navy of the Celestian Empire is the brainchild of Empress Shinzua, who as Speaker of the fleets quickly moved to control all aspects of nautical warfare in addition to her originally more prosaic areas of responsibility. The Empire is considered a global naval power, especially after their victories at Tsushima and Myeongnyang during the Anglo-Russian Korean Expedition. All of the coastal nations of the Empire design, build and crew their own sea-going vessels, but all ultimately serve the Blazing Sun. Warships are a source of great pride within the Empire, and the expansion of their borders necessitates deploying them more visibly, something that has been welcomed by the Empire's Admiralty.
The warships of China are the most numerous in the Empire's navy. Their prow mounted chemical flame cannons, known as Huoqiang, make them formidable in any conflict and Chinese ships form the core of most of the Empire's Battlefleets. The Ning Jing class Battleship is a versatile vessel and, like a lot of Chinese vessels, tends to favour rocket battery salvos to the more traditional heavy gun batteries. The crews are all well trained in the use of these weapons and once a target has been marked by an initial salvo the rest seldom miss their targets. Developed in the same shipyards, Yangtze Command Ships are a rarer sister-class. The Yangtze eschews two of the heavy turrets and instead mounts a trio of high calibre, long-barrelled ordnance known as Erlang Shen which can cripple enemy vessels and shore defences alike.
The cruisers of the Chinese also mount the deadly Huoqiang along with a mix of heavy guns and rockets. The crews of the Shanghai frigates are extensively drilled in working in large squadrons and can coordinate attacks with devastating effect. With the glut of manpower at its command, China's shipyards are capable of churning out large numbers of cruisers and frigates giving it dominance in naval affairs countered only by the elite vessels of Japan.
The Ning Jing Battlefleet Set kit builds seven multi-part plastic and resin miniatures;
1x Ning Jing Class Battleship

The Battleship can alternatively be built as a Yangtze Class

2x Jian Class Cruisers

Each Cruiser can alternatively be built as either Dao, Meru or Wusong Class

4x Shanghai Class Frigates
Please note:
Miniatures are supplied unpainted and some assembly will be required.
Unit Cards are not included and can be found on the Dystopian Wars website.