Abomination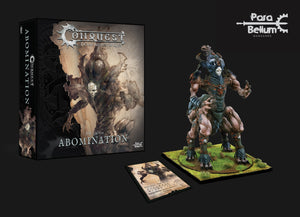 The Abomination

"…we lost the sky as it stepped over us, crashing through half the squad. And that sound! At first, I thought it was the men but… I-it whimpered, Sire. It whimpered as it slaughtered. My captain, a veteran of ten years, soiled himself."

Abominations loom several man heights over the head of even the tallest mortal. Their gore slicked limbs spider out from its bulbous, distended abdomen and thorax. They are instruments of pure mayhem on the battlefield, scuttling forwards and reaping a bloody toll with their scythe like appendages, leaving only bloody ruin behind them. Survivors speak of a keening whine, just on the verge of hearing that pervades their memories, a sound that registers deeper than the cries of their fallen comrades. This is the only sound an Abomination can make, the only sound it is allowed to make: a keening howl to convey the depth of their misery and torment.

Abominations were not originally intended to serve as organic war engines. They were an advanced and cruel form of punishment, devised on a whim by the Sovereign. Ensconced deep within an Abomination lies the body of an Exile who has betrayed his trust or breached the most sacrosanct of Spire laws. Despite significant effort, even the Sovereign's most ardent opponents have not been able to come up with a more cruel punishment and have adopted this cruel torture for their worst enemies.

Invasive cerebral procedures impairs the cognitive function of the condemned, as chemical and hormonal treatments are applied to make them lose control of their Life-Binding gifts and forcibly bond them to a lower organism. Multiple organisms were proposed and tried but the humble ant was ultimately preferred. While more gruesome examples could be made, it was found that those Abominations bonded to other species were too intractable or self-destructive. The ant's instinctive hierarchical physiology somehow makes it more susceptible to Pheromonic command, forcing the body to respond to orders while allowing compromised psyche trapped within the hellish amalgam only enough control to wail its anguish even while enacting the will of its tormentors.

1 models per pack and on monster stand. 1 iCard.