Badlands Base Inserts - Medium Western X 2 - Alternate Style - (Bases Sold Separately)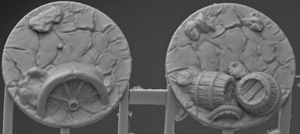 Resin base toppers/inserts designed for tabletop games. Bases sold separately.
These were meant to be for Large Warcradle bases but we accidentally made them the medium size.  There is a limited number of these available.

2 pieces: medium warcradle base inserts.


Made of resin, these are sold unfinished and unpainted.  Resin may contain air bubbles and imperfections.  Moderate hobby skills required.  Photos are for example only, actual product may vary.