Batman: Bat Signal Objective Markers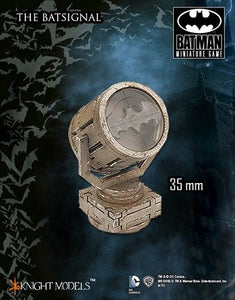 SKU: KM-ACC0026
Sorry, this item is out of stock
Add that extra level of realism and fun during Batman miniatures games for you and any opponent in battle, with this Bat Signal Objective Marker set. You can't just pick up a phone and ask to talk to Batman so the policemen of Gotham came up with the awesome idea of the Bat Signal, lighting up the sky and alerting Batman to the call for help. This scenery set is easy to assemble, ready to paint and made of high quality MDF and is an amazing addition to your collection.
Contains 1 Bat Signal Objective Marker.
Please Note: Miniatures are supplied unpainted and assembly some be required.