Batman: Containers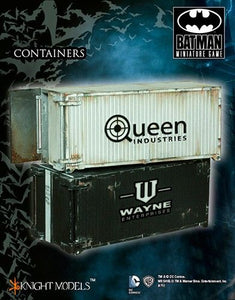 New Containers Set

Add that extra level of realism and fun during Batman miniatures games for you and any opponent in battle, with this new containers set. Easy to assemble, ready to paint containers, made of high quality MDF and etched company names of Queen Industries and Wayne Enterprises. These containers are an amazing addition to your collection.
Contains 2 containers, each with a company logo, designed for Batman Miniatures Game.
Please Note: Miniatures are supplied unpainted and assembly some be required.