Shaman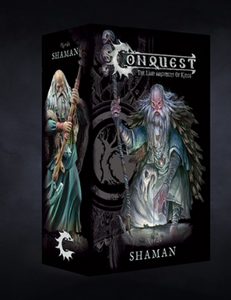 The position and role of Shaman once commanded a great deal of respect in Nord society. Before the coming of the Einherjar, they were the only force capable of blunting the worst excesses of the Fimbulwinter and the Jötnar. Their rune castings and mist weavings could, and did, save countless villages from extinction. During the war with the Jötnar, Shamen were often found at the right hand of the Einherjar, granting their wisdom and guiding them through the many difficult decisions that had to be taken.
Given the pivotal role they played in the survival of the Nord people, one would expect their station to be rather more… exalted than it currently stands. Reduced to living on the edge of what villages will take them, Shamen have fallen on hard times. This decline can be directly traced to the rise of the Valkyrie Cult as a force within Nord society.
Box Contents
 1 Resin Miniature
1 Base
1 Command Card
Product Information
Assembly: Required
 Box size: 7.4x10.4x3.7cm; 50grs
Material: Resin
Miniatures are supplied unpainted and assembly may be required.