Enlightened Frontline Squadrons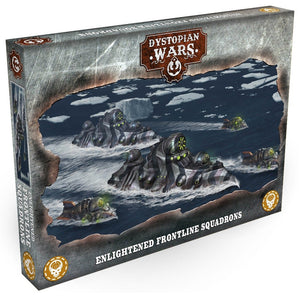 The architects of the Dystopian Age, the Covenant of the Enlightened wield their formidable intellects to sweep aside those ignorant or deluded who stand in the way of Scientific Progress. These masters of technology covet knowledge above all things and believe that it is only they who can steer humanity on a path to enlightenment. With their wondrous war-engines, the Covenant of the Enlightened take every opportunity to demonstrate their technological supremacy. The discoveries that were intended to herald a new era for humanity are instead used to punish those who would misuse them. Only when the Covenant are lauded as the rightful leaders of the Earth in this new Dystopian Age can the world be brought into a new dawn of achievement and prosperity.
Enlightened Frontline Squadrons are the mainstay of the Covenant's fleet. With experienced commanders on the bridge and veteran engineers maintaining advanced technologies within the hull, these ships are marvels of the Dystopian Age, bringing volleys of particle cannon fire and aetheric broadsides to bear against those who would stand in the way of Progress.
The Enlightened Frontline Squadrons kit builds eight multi-part plastic miniatures;
2x Enlightened Cruisers

Each Cruiser can be built as either Antarctica, Chatelet, Copernicus, Lovelace, Stiletto or Ulysses Class

6x Enlightened Drone Frigates

Each Frigate can be built as Germain or Merian Class

2x Enlightened SRS Tokens
2x Base
Please note:
Miniatures are supplied unpainted and some assembly will be required.
Unit Cards are not included and can be found on the Dystopian Wars website.