Fallout: Wasteland Warfare - Terrain Expansion: Cases and Crates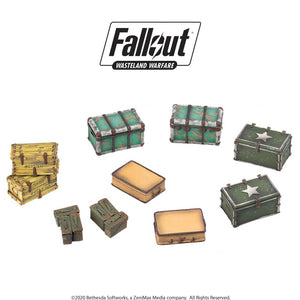 SKU: MUH051920
Sorry, this item is out of stock
WARGAMING IN THE WASTELAND!
In Fallout: Wasteland Warfare, players will build their own crew from a wide range of factions, allies and iconic characters from the Fallout series, and play in apocalyptic games of 3 - 30 high-quality 32mm scale resin miniatures through a huge variety of iconic scenery and settlement buildings, from the Red Rocket to Sanctuary Hills, Nuka-Cola vending machines and wrecked cars.
When the bombs fell so too did civilisation. However, the trappings that were left behind often remain. From locked down military bases and outposts with their weapons and ammo caches to the luggage of those who were trying to flee in the desperate final moments, a diligent survivor might find all manner of supplies and resources hidden in trunks, cases and ammo crates.
This blister pack contains 10 high-quality resin 32mm scenery pieces to detail your gaming tables and provide thematic scenario objectives.
Contains:
2x Suitcase
2x Wooden Crate
2x Military Crate
2x Steamer Trunk
2x Ammo Case
Please Note:
Miniatures are supplied unpainted and some assembly may be required.
Miniatures pictured are for display purposes only and are not supplied.