Fallout: Wasteland Warfare - Terrain Expansion: Corvega Sedan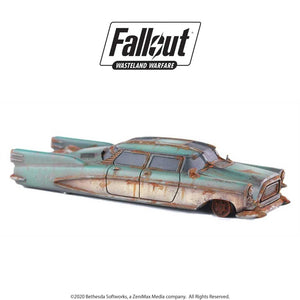 SKU: MUH051971
Sorry, this item is out of stock
WARGAMING IN THE WASTELAND!
In Fallout: Wasteland Warfare, players will build their own crew from a wide range of factions, allies and iconic characters from the Fallout series, and play in apocalyptic games of 3 - 30 high-quality 32mm scale resin miniatures through a huge variety of iconic scenery and settlement buildings, from the Red Rocket to Sanctuary Hills, Nuka-Cola vending machines and wrecked cars.
This Fallout: Wasteland Warfare set contains 32mm scale high-quality multi-part resin miniatures.
Contains:

1x Chryslus Corvega Sedan - this version comes without tyres and in one part ready to be used as battlefield cover or an objective.
Please Note:
Miniatures are supplied unpainted and some assembly may be required.