Gaslands Refuelled - Rule/Instruction Book (Hard Cover)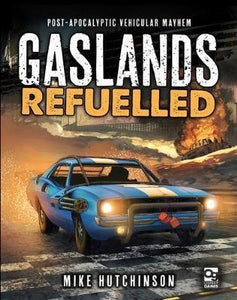 SKU: OSPGAS1
Sorry, this item is out of stock
A set of revised and expanded war-gaming rules for the exceptionally popular post-apocalyptic vehicle game, Gaslands.
Shoot, ram, skid, and loot your way through the ruins of civilization with Gaslands:Refuelled, the tabletop miniature wargame of post-apocalyptic vehicular mayhem. With all new material including expanded and enhanced perks, sponsors, vehicle types, and weapons, Gaslands: Refuelled contains everything a budding wasteland warrior needs to build and customize their fleet of vehicles in this harsh post-apocalyptic future, and features a host of options for scenarios, environmental effects and campaigns, allowing players to create their anarchic future!
GASLANDS: REFUELLED will be a revised and expanded version of Gaslands, presented in a beautiful stand-alone hardback edition. Featuring all of the material introduced in the Time Extended supplements, updated core rules that factor in the feedback from the Gaslands community, and exclusive new content, this is the ultimate "Director's Cut" of Gaslands!