Wild West Exodus: Lokess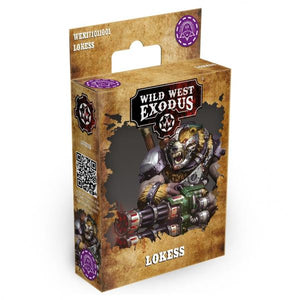 SKU: WEX171011001
Sorry, this item is out of stock
Once roused to anger Lokess is a force of nature and terrifying to behold. Of all the remaining Carcosa, injury and a thirst for vengeance has led Lokess to embrace the technology and gifts of the Hex. With implants and augmentations, she couples these with her sheer size to carry the devastating Ursun Repeater and wield it as if it were a simple six-shooter.
Lokess feels that she should be the right hand of Carcosa Rex. Unwilling to put aside her petty jealousies and rivalries with Makulus and Tok, she has forced Rex to choose Hanuma as his lieutenant instead. Lokess will force a rebalance of this injustice through the only means she knows how. Rex will die by her hand, but only when the time is right.
The Lokess kit builds one multi-part resin miniature;
Please note:
Miniature is supplied unpainted and some assembly will be required.
Character Unit Cards are not included and can be found on the Wild West Exodus website.