Hypatia Battlefleet Set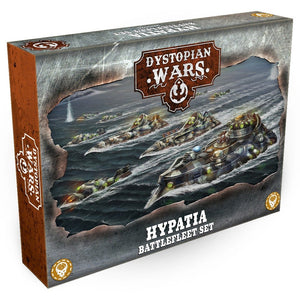 The first Hypatia Class vessel produced was the prototype named The Prometheus. This ship was stolen by the Commonwealth Agent Helsinki Markov. Despite a desperate hunt, The Prometheus was never recovered. Despite this setback, Hypatia Class Generator ships were already in production by that point and the first production ship of the class, The Hypatia, was fitted out ready for service.
Now several years on from the Markov scandal, the Hypatia class has established itself as one of the most versatile ships available to the Enlightened. Not only does it carry significant firepower but the ultra-efficient engines and superconductors allow it to also operate three specially overcharged generators. This gives the Generator Ship and its fleet a huge amount of options.
The support ships that escort Hypatia Class vessels and other large ships fill some often more specialist roles. The Plinius Support Carrier carries dozens of Scythe Drones and can launch them from hydraulic ramps. This allows the Plinius to partially submerge when the ramps are closed making it very difficult to see and target. Built around the same hull as the Plinius are a number of other Cruisers. The Quintilian bombardment cruiser mounts heavy rockets that it can launch at distant targets before returning below the waves. The Tacitus Assault Cruiser favours two hardpoints for turrets, most often Particle Beamers. The Claudius Merchantman is designed with extra hull space and is the backbone of Enlightened logistics, the ingenious engineers still managing to squeeze in a number of torpedo launchers to protect them from pirates and other hostiles.
While these Cruisers are able to lurk just below the surface the Diogenese and Praxilla Class Submarines are able to operate at significant depths. These large Automata operate under a number of pre-programmed subroutines and are effective at hunting down and destroying enemy vessels.
The Hypatia Battlefleet Set kit builds nine multi-part plastic and resin miniatures;
1x Hypatia Class Generator Ship
2x Plinius Cruisers

Each Cruiser can alternatively be built as either Quintilian, Tacitus and Claudius Class

6x Praxilla Submarines

Each Submarine can alternatively be built as a Diogenese Class

2x SRS Tokens
2x Physeter Tokens
Please note:
Miniatures are supplied unpainted and some assembly will be required.
Unit Cards are not included and can be found on the Dystopian Wars website.