Imperial Officers Expansion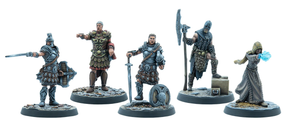 ​Featuring high quality 32mm multi-part hard plastic or resin figures (each with its own unique custom base), the skirmish system sees fan favourite heroes like Hadvar, Ralof, Yrsarald Thrice-Pierced, Marcurio, Mjoll the Lioness, Ulfric Stormcloak, Galmar Stone-Fist, General Tullius and Lydia. The player's heroes lead groups of followers on adventures inside Dwemer Ruins, Draugr-infested Nord Tombs, and through the frozen wilderness!
​As well as controlling their troops, players will also need to manage the stamina and Magicka resources their models bring to the table, all the while watching out for hostile AI-driven enemies and narrative events that can change the flow of battle. Players can play against each other or team up (or play solo) to take on all manner of creatures and adversaries driven by Modiphius' advanced AI system.
Please Note:
One Imperial Officers Expansion supplied.
Miniatures supplied unpainted and some assembly may be required.