Konig Battlefleet Set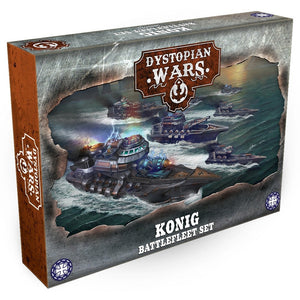 The Teutonic Knight-Luminaries developed an advanced generator ship utilising much of the Elector class design. Featuring the latest in metallurgical and technological advancements, the Konig class is used to lead Teutonic battlefleets in operations around the globe. By decree of the Kaiser, these vessels are accountable only to the Grandmaster herself. Not only does this vessel boast an impressive array of generators it is also equipped with a devastating range of weaponry including a fore mounted Sturmbringer. This combination makes the Konig a very valuable asset to any Imperium battlefleet. Like all capital ships the Konig is always supported by a combination of frontline, support and other smaller vessels.
The Konig Battlefleet Set kit builds seven multi-part plastic and resin miniatures;
1x Konig Class Battleship
1x Ferdinand Class Cruiser
1x Augustus Class Cruiser

The Augustus can alternatively be built as a Schaumburg Class

2x Arminius Class Frigates
2x Sigimer Class Destroyers

Each Destroyer can alternatively be built as Toten Class

1x Blitzen Bomber Special SRS Token
1x Imperium SRS Token
Please note:
Miniatures are supplied unpainted and some assembly will be required.
Unit Cards are not included and can be found on the Dystopian Wars website.