Malifaux Wounds Markers (16 Units)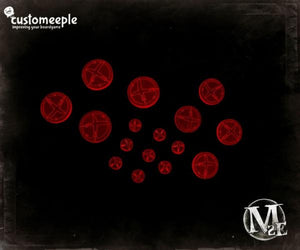 A set of pieces to mark wounds in Malifaux miniatures.

Each set will contain:

8 Small wound markers (10mm): mark 1 wound.
4 Medium wound markers (15mm): mark 2 wounds.
4 Big wound markers (20mm): mark 4 wounds

All the pieces are designed in collaboration with Wyrd games to be perfectly compatible with Malifaux.

Material: Fluorescent magenta methacrylate.

Thickness: 3 mm

Size: 10/15/20 mm

Quantity: 16 tokens

Use: Mark wounds in your Malifaux games.
Note: The colours of the methacrylate pieces may vary slighty from the photos.