Meat Grinder Posse Set WEX101099007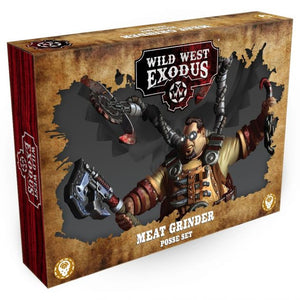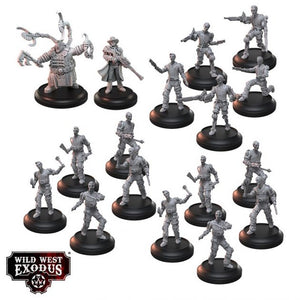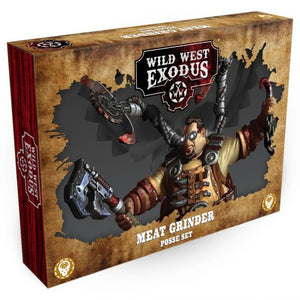 SKU: WEX101099007
Sorry, this item is out of stock
The Meat Grinder Posse kit builds seventeen multi-part resin and Plastic miniatures;
1x Kyle the Black
1x Virgil Earp
10x Constructed Menials
5x Constructed Henchmen
17x Bases
Please note:
Miniatures are supplied unpainted and some assembly will be required.
Character Unit Cards are not included and can be found on the Wild West Exodus website.
The Covenant of the Enlightened is possibly the most exclusive club in the world. Bright young thinkers and scientists clamour for an introduction into its ranks and yet an incredibly small number make the grade. A brilliant mind is not the only prerequisite for entry. The Charter of the Covenant is quite clear on this point. A certain level of upbringing and financial backing are also qualities that are demanded from any potential candidates. They are, after all, looking to make the world a better place and bring the teeming masses into the brave new future of science.
The Charter of the Covenant of the Enlightened permits another method by which a keen mind might gain access to membership of that intelligentsia. Personal recommendation of a fellow Peer. Through this, Burson Carpathian has granted himself carte blanche on who he elevates to the ranks of the Covenant. In this manner, he has surrounded himself with an eclectic group of sociopathic geniuses who swear fealty to him.
Kyle Tanner, known as Kyle the Black because of the colour of his soul, is one of these individuals. The man's drive to further his own knowledge and abilities are tempered only by the occasional chiding from his patron, Carpathian. With no conscience or inhibitions, Kyle's experiments are run using the quantity over quality principle. The name of his Promethean Complex; The Abattoir, is a direct reflection on his habits and to see his impressively rotund frame is to know that he is a man of insatiable appetites.
As a young man, Tanner served in the 24th Infantry Division under Colonel MacArthur and had used that position to further his experiments in augmenting the human form. What should have been a way to give wounded veterans a second lease of life was corrupted into a way to 'improve' the soldiers so that they could fight longer, harder and more efficiently. This culminated into weapons and armour directly grafted into the screaming meat that passed through his battlefield hospitals. Wishing greater control over his constructed henchmen and menials, Kyle began to perform lobotomies to remove a good deal of idle thought and free will in his subjects. When this work was uncovered MacArthur attempted to have Tanner court marshalled. The disgraced Union medic fled after compelling his latest experiments to attack the camp and cover his escape. It was in a wretched state; battered, disgraced and hungry that Tanner fell into the employ of Carpathian.
Kyle is now at liberty to continue refining his talents for creating constructs, mostly from seriously maimed or injured people, but sometimes from fit and healthy individuals down on their luck or heavily in debt. Kyle's experiments are not limited to others either, he has grafted a pair of additional servo arms to his torso, equipped with claws and saws, that allows him to work even while feeding his capacious appetite. Naturally, these additional appendages assist him in combat should he ever be unable to avoid it, making Kyle the Black a formidable adversary in melee.
Virgil Earp is respected as a Lawman, respect earned by his own merits as well as his family connections. His alliance with Kyle the Black became necessary when Virgil and his younger brother Morgan were gunned down in Tombstone. Without the assistance of Kyle the Black, Morgan would have surely died and Virgil would have lingered the rest of his life as a cripple. But a bargain was struck with Kyle and the egomaniacal Carpathian. In this pact, Virgil paid for his brother's life with his own. Virgil became beholden to Kyle and Carpathian, forced to intercede on behalf of the Enlightened in the Arizona Territory and smooth over any disputes they might cause. This service is direct at times, especially when Vigil has found himself employed as little more than a bodyguard for one of the Covenant in times of need.
Kyle the Black rarely needs to venture out of his facilities, except to see Doctor Carpathian or when searching for materials for his research. On such occasions, he is accompanied by a large retinue of constructs to provide protection and carry out his every whim. Anyone who wants to take a shot at Kyle will need to get past this fleshy tide of meat shields, or become part of it. It is common after a bandit ambush for Kyle and his band of constructs to return to the Abbatoir in greater numbers than when they left.