Mysterio & Carnage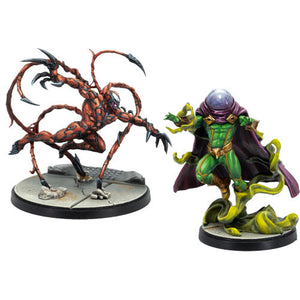 SKU: AMGCP50EN
Sorry, this item is out of stock
40mm Scale
Quentin Beck began a life of crime as a frustrated artist. A successful stunt man and special effects creator in Hollywood, he turned to criminal life after failing to gain the recognition he thought he deserved. Donning the mantle of Mysterio, Beck uses illusions, hypnosis, and trickery to enact his criminal schemes. A longtime rival of Spider-Man, Mysterio's gadgets and intelligence allow him to tangle with his super-powered foe.
The killer Cletus Kasady shared a prison cell on Ryker's Island with Eddie Brock, the human host of Venom. Kasady merged with an insane offspring of the original Venom symbiote, which bonded to his bloodstream, transforming him into the deadly and unpredictable villain Carnage.
Contents:
2 Miniatures
  ‣ 1 Mysterio
  ‣ 1 Carnage
4 Round Scenic Bases (35mm)
2 Round Scenic Bases (50mm)
2 Character Stat Cards
3 Team Tactic Cards
11 Tokens

Miniatures are supplied unpainted. Preparation and assembly are required.