Wild West Exodus Raging Bear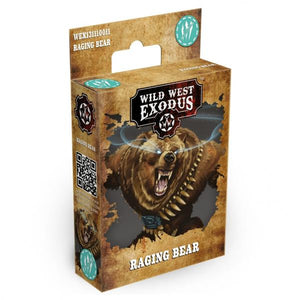 SKU: WEX131110011
Sorry, this item is out of stock
A solitary soul, Raging Bear stands apart from the other Spirit Walkers. While others return to their human form once the bloody day is done, Raging Bear does not. Some unspeakable shame in his past makes returning to his life as a man unthinkable. Even the all-knowing Raven Spirit will not address the reasons for this isolation directly, only that the burden of his deeds as a beast cannot be borne in the soul of a man. And so it is that, when needed, Raging Bear can be found far from the settlements of the Warrior Nation. The call of the Great Spirit draws him back to his people when needed the most. In battle, he leads other Spirit Walkers and bloodthirsty warriors by example; red in tooth and claw.
The Legendary Raging Bear kit builds one multi-part resin miniature;
1x Legendary Raging Bear
1x Base
Please note:
Miniature is supplied unpainted and some assembly will be required.
Character Unit Cards are not included and can be found on the Wild West Exodus website.