Remade and Reforged M3E - 3 Miniatures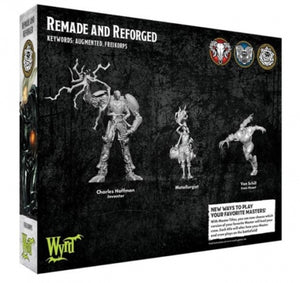 32mm Scale
Keyword: Augmented, Freikorps

Plastic components.

Contents:
3 Miniatures
‣ Charles Hoffman (Inventor)
‣ Metallurgist
‣ Von Schill (Iron-Heart)
Bases & stat cards included


Miniatures are supplied unpainted. Preparation and assembly are required.
The Guild of Mercantilers is often seen as an omnipresent, ever-vigilant force that protects citizens against criminals and the monsters that roam Malifaux. What few people realize is that this strength is a carefully maintained illusion. Protection of the people is a secondary motivation at best; their interests lie only in Soulstones, and each shipment sent back to Earth helps solidify their stranglehold over the world's most powerful nations.
A secretive branch to the Miners and Steamfitters Union, the Arcanists believe that humans should be given free rein to embrace magic and revel in its power. To outsiders of the organization, they are seen as anarchists and criminals, but to those who share their vision, the Arcanists are an ambitious collection of everyday working men and spellcasters that are capable of truly wondrous feats.
Freedom's a lie sold to fools who will bury whatever sod you're sellin'. You'll have an easier time holding the sun in the palm of your hands than finding true freedom. Many of the Outcasts once bought into the well-groomed sales pitch, chasing imagined diamonds. But now that they're no longer wanted to wander the city, these renegades have become what many had already assumed them to be: outlaws on the run, pushed away by the society that chooses to misunderstand them. As long as there's a lawman, there will be those that oppose them, those that ignore them, and those that defy them. It won't be some blind bull that dictates what's right or wrong. To an Outcast, the decision to charge toward or escape from their destiny is theirs and theirs alone.