Sleeve Kings - Card Sleeves 70 x 120mm - 60 Microns Thick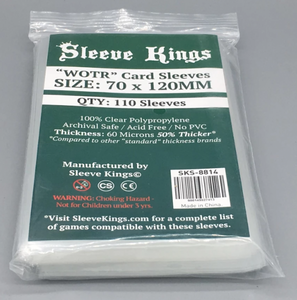 Thicker Than Any Other "Standard" Sleeves -Most "Standard" Sleeves are 40 microns thick, a few are even 50 microns. Ours are 60 microns thick! That is 50% more than most!


10% More Sleeves Than The Other Guys -Most sleeves come 100/pack. We are the only brand offering 110 per pack! 10% more FREE!

Priced Lower Than Other Brands

"Tough As Nails!" Guaranteed will not split!