Soul Battery Single Model from the Bargains Made Box M3E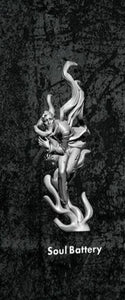 Malifaux models are  32mm 'heroic' scale miniature made of high-quality plastic. Will require some preparation and assembly.
Faction: OutCast 
Keyword: Honeypot
Contents:
Soul Battery  single model

Product may contain small parts and sharp edges.  Some cleaning and assembly may be required before painting.