Star Wars Dark Side Playing Cards (Red)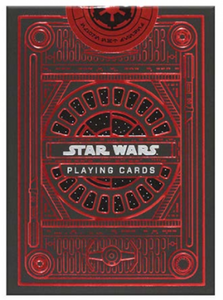 SKU: USP10021926A-red
Sorry, this item is out of stock
The Box:
* Embossed and foil stamped and have a custom seal.
* The Dark Side Box looks through the window of the Imperial Throne Room, with symbols of the Galactic Empire and First Order on each corner
Card Faces:
* Set of 12 court cards, with iconic dark side characters: Palpatine is depicted alongside KyloRen, Darth Vader, and more.
Card Backs:
* The red back design features details from the Death Star to the First Order, Sith, and Empire insignia. In the center, a repeating pattern of TIE fighters supports Darth Vader's lightsaber on either side.