The Elder Scrolls Call to Arms - Puzzle Door Terrain Set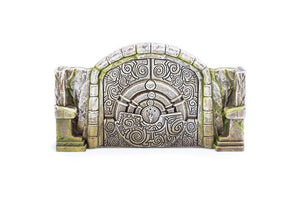 SKU: MUH052053
Sorry, this item is out of stock
The most secure Nordic tombs contain twisting tunnels and catacombs of traps, dangerous creatures and the vengeful dead. Those seeking to plunder the treasures of these ancient halls must fight their way through and overcome all manner of crushing peril and monstrous denizen of the deep, all to come face to face with the Nordic puzzle door.
These carved sentinels bar the way for any without the proof of worthiness – a precious dragon claw which is both key and solution to the door itself. No amount of magic, strength, or determination will let an adventurer pass without this vital piece of treasure, often lost to ages long past.
For those who have the key however, the puzzle door opens the way for riches and rewards undreamt of-so long as no final guardians bar the way…
Create incredibly detailed Nordic tombs for your battles and delve scenarios in the world of The Elder Scrolls with these Draugr Tomb Walls for Call to Arms.
This boxed set contains one 32mm scale high quality resin miniature, to allow players to expand their The Elder Scrolls: Call to Arms games.
Contents:
Please Note:
Miniatures are supplied unpainted and some assembly may be required.
This is not a toy. Not suitable for children under 14 years of age. Choking Hazzard due to small parts.