The Elder Scrolls: Call to Arms - Word Wall Terrain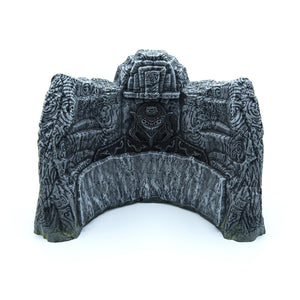 SKU: MUH052054
Sorry, this item is out of stock
Ancient carvings etched into stones raised in ages past, Word Walls are mysterious structures found throughout Skyrim. Ancient Nords raised them, perhaps to honour their Dragon overlords, perhaps to commemorate their dead. The markings that cover their surfaces are carved to resemble the clawed language of the Dovah and hold the ancient power of The Voice - Thu'um
For use with Elder Scrolls: A Call to Arms Miniatures Core Rules. Expand your game with other Starter and Expansion Sets also available now.
Includes:
1 x Word Wall Terrain Piece
This set contains one 32mm scale high quality multi - part resin miniature with scenic base. Requires some assembly. Supplied unpainted.
Please Note:
Scenery supplied unpainted and some assembly may be required.