Tianlong Battlefleet Set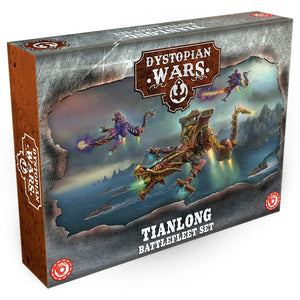 The Tianlong Draconic Colossus uses a combination of rotor engines and repulsion fields to remain aloft. Originally created to patrol the airspace near the Zhanmadao Sky Fortresses and Ziwei Sky Bastions, the Tianlong swoop down, their skilled crews getting the most out of these marvels of Engineering. The Tianlong can be outfitted with different weapons located in the mouth and tail. The choice of the Heavy Huoqiang or the Heat Lancette is a difficult one for most Captains to make. The Heavy gun battery can also be removed in favour of additional crew space to house a squadron of Bushi Ryu. These highly trained Samurai use rocket-propelled armour to descend to assault enemy vessels in hand to hand combat.

Despite the fact that King Sun Li of Korea holds responsibility for all air technology the Emperors Ming and Shinuza have utilised a loophole to jointly commission the construction of a Draconic Colossus to provide air support for their own units. This has caused some amount of frustration for The Cloud Dragon and he has tried to have the Colossi decommissioned or brought under his oversight on several occasions. The Forum, however, has resisted such moves to dismantle such magnificent symbols of the Empire.
There are occasions when squadrons of Tianlong are sent on strike missions, if so they are often supported on the sea by Gong destroyers. These fast, but well-armed vessels are ideal for long-range, fast attacks, complimenting the Draconic Colossi well.
The Tianlong Battlefleet Set kit builds nine multi-part plastic miniatures;
3x Tianlong Draconic Colossus
6x Gong Destroyers
Please note:
Miniatures are supplied unpainted and some assembly will be required.
Unit Cards are not included and can be found on the Dystopian Wars website.
| | |
| --- | --- |
| Release Date | 2021-11-27 00:00:00 |
| Finish | Unpainted |
| Format | Box |
| Product Manufacturer | Warcradle Studios |
| Average Age | 14+ |
| Faction | The Empire |
| Game System | Dystopian Wars |
| Material | Plastic |
| Unit Type | Battlefleet Set |
| Scale | 1/1200 |