Wild West Exodus: UR-31 G.I. Bots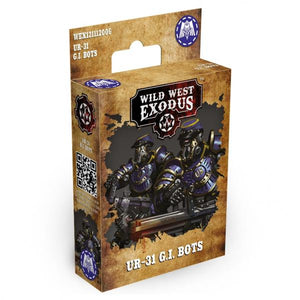 SKU: WEX121112006
Sorry, this item is out of stock
The G.I. Bot is a military grade version of the UR-31 and shares many features with the Heavy Lawbots of the same mark. Developed by the Union as an iterative improvement on the Enlightened designed UR-30's, the G.I. Bot is built for open combat deployment. Its updated design has led to the inclusion of better armour and a more advanced combat logic engine with many complicated parts and, subsequently, a lower battery life. These changes have necessitated shorter tours of duty yet still ensures that a fully automatic army will elude the Union for years to come. Despite this, the UR-31 G.I. Bot serves in a support capacity with most Armoured Guard regiments. It is a common enough piece of hardware that two dedicated assault platoons have been readied for overseas deployment staffed entirely by these tireless and relentless metal soldiers.
The UR-31 G.I. Bots kit builds two multi-part resin miniatures;
2x UR-31 G.I. Bots
4x Weapon options
2x Bases
Please note:
Miniatures are supplied unpainted and some assembly will be required.
Character Unit Cards are not included and can be found on the Wild West Exodus website...