Wild West Exodus: Krampus Rex [Seasonal/Limited]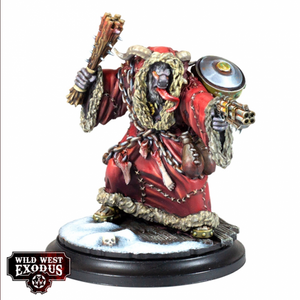 "You'd better watch out, you'd better be tough... or the Krampus will carry you off"

Children all along the Frontier are used to hearing about Krampus from their parents - and their elder siblings too, of course!

Krampus Rex is a special edition miniature from Warcradle Studios, for this festive period, and can be used as an alternative sculpt of Carcosa Rex in games of Wild West Exodus.

Available only during December, you can take comfort that you aren't in the iron pot he carries on his back - which is just about large enough to hold one small naughty child, ready to be whisked off to who knows where...

The Krampus Rex kit builds one multi-part resin miniature;

1x Krampus Rex
1x Base
Please note:
Krampus Rex is a special 2018 Chrismas miniature, only available to order during the month of December, who can be used in games of Wild West Exodus.

Krampus Rex can be used as Carcosa Rex.

Miniature is supplied unpainted and some assembly will be required.
Character Unit Cards are not included and can be found on the Wild West Exodus website.