Legendary Burson Carpathian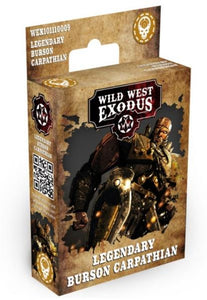 One of the most influential figures in the Covenant of the Enlightened, Burson Carpathian was a man on who the very Dystopian Age would hinge upon. Carpathian cared not for such things. His obsession over the past decade was in researching and challenging the very laws of nature so that he might be able to restore to life his beloved wife Veronica. Such a destiny was denied him one fateful night at the hands of his own nephew, Roman Ursul.
Ursul (now going by the name Caym) assassinated his uncle while Carpathian was speaking to an assembled audience of Enlightened Peers. Expecting to be lauded as the new head of the Enlightened, Caym had badly misread the situation and was forced to flee before retribution could be met out against him. The damage was done, however, and it was clear that Carpathian was mortally wounded. Kyle the Black, and Countess Augusta Byron, worked tirelessly on the dying scientist for three days. Miraculously, the pair managed to bring him back from the brink of death, though he was forever transformed. Most of Burson's body was damaged beyond repair and his brain was also heavily damaged.
Utilising the latest scientific and engineering breakthroughs, Carpathian is sustained in a reshaped body and mind. In his new incarnation, Carpathian's physical form is formidable. His new hands can crush bone with little effort and his Atomic Minigun is capable of laying down a hail of irradiated bullets. The most formidable aspect about Carpathian remains his mind, however, where he was once calculating and detached, he is now fickle and irrational. He will often erupt in spontaneous rages or moments of inconsolable misery. His closest allies are now fearful of his reactions to the smallest disappointments and his enemies are now fearful of this new more powerful and more unpredictable foe.
As for Caym, while he has not been seen in the Frontier since that fateful day, there is no doubt a reckoning still to be had.
The Legendary Burson Carpathian kit builds one multi-part resin miniature;
1x Legendary Burson Carpathian
1x Bases
Please note:
Miniature is supplied unpainted and some assembly will be required.
Character Unit Cards are not included and can be found on the Wild West Exodus website.