Wild West Exodus: Legendary Morgan Earp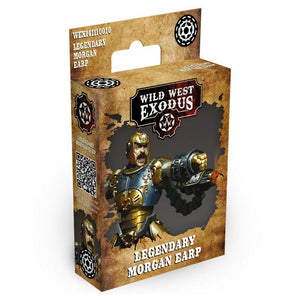 SKU: WEX141110010
Sorry, this item is out of stock
The youngest of the Earp brothers, Morgan joined Virgil, Wyatt, Warren and their friend Doc Holliday in Tombstone in their attempts to bring the ruler of law to the town. Unfortunately for the brothers, this act earned them a violent assassination attempt one stormy night with Morgan shot to pieces, paralysed and bleeding out. Amidst the shattered glass and pouring rain, it was an injured Virgil who came up with a solution to save his dying younger brother.

Morgan's older brother was always the quietest of the family, but after the attack he became profoundly sullen and brooding. The price he would pay for his brother's recovery weighed heavily upon him. Their eldest sister, Martha, had fought in the Ore War alongside Virgil for the Union. It was during that hellish conflict that Martha had introduced him to a sawbones by the name of Kyle Tanner. Virgil knew the man had fallen in with the Enlightened scientist Carpathian so he knew exactly where to find him. The price to save his brother was Virgil's loyalty and oath to work for Kyle as and when he was needed. Virgil knew that this would require him to kill, or worse, for the black-hearted man but what other choice did he have? He felt his brother's life was worth his own soul.
The Morgan that returned, months later, was more machine than man; the juiced bullets having pulverised most of his internal organs and skeleton, these were replaced with mechanical parts. Only Morgan's head, lungs and heart remained unchanged. He was no longer capable of eating anything more than pureed, protein-rich nutrient soups but brash youth was still there, though much tempered by the experience he remained positive and was always the first to joke about the fact he was now a couple of inches shorter than he once was.
Over the years, as Morgan adjusted to his new body and began to master its design, he made many improvements. With a technological affinity for automata, especially the K9's, he is often seen accompanied by them on dangerous missions to uphold the law. It was during one particularly arduous mission that a battered Morgan was gifted a complete overhaul by Nikolai Tesla. Emboldened by this new body, Morgan took great pleasure in pointing out that he had grown at least a foot taller than he had been.
Tesla had also gifted the Lawman a HWK Automata to assist him with tracking down his quarry. Morgan re-named the machine from the unoriginal HWK 209 to Hawkshaw and employs it to great effect as a decoy, tracker and field repair unit.
The Legendary Morgan Earp kit builds two multi-part resin miniature;
1x Legendary Morgan Earp
1x Hawkshaw
2x Base
1x Flight Stand
Please note:
Miniatures are supplied unpainted and some assembly will be required.
Character Unit Cards are not included and can be found on the Wild West Exodus website.
Scenic base toppers are not included and are for display purposes only.