Wild West Exodus: Madre Navidad [Seasonal/Limited]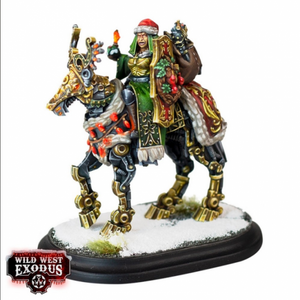 As the festive season approaches Madre Navidad is sometimes glimpsed delivering toys to well-behaved children in the farmsteads around Rio Senora. The thunder heard late at night is said to be the Madre destroying Hex-Beasts and other abominations with her explosive puddings. The red eye-lights of her mechanical steed lead the way through even the darkest of nights taking her to wherever she is needed most.


Only available throughout December, Madre Navidad is a special edition miniature from Warcradle Studios, for this festive period. She can be used as an alternative sculpt of Madre Monica Perez in games of Wild West Exodus.

The Madre Navidad kit builds one multi-part resin miniature;

1x Madre Navidad
1x Base

Please note:

Madre Navidad is a special 2019 Chrismas miniature, only available to order during the month of December, who can be used in games of Wild West Exodus.
Madre Navidad can be used as Madre Monica Perez.
Miniature is supplied unpainted and some assembly will be required.
Character Unit Cards are not included and can be found on the Wild West Exodus website.