Wild West Exodus: Vermillion Sentinels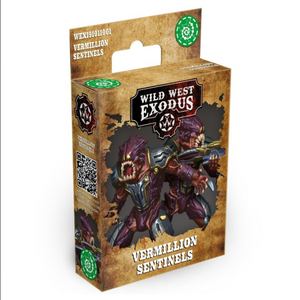 The Vermillion clade serve the Watcher Hegemony as escorts and bodyguards. They are often sent on missions that include high ranking leaders or diplomats and are instinctively vigilant for threats to their charges. The Vermillion are particularly suited to this role as their armoured carapace and extensive weapons training allows each Vermillion to selflessly protect their charges even at great risk to their own mortality.
Armed with deadly bladed gauntlets and Fusion Carbines, these fierce warriors are intended to stop any threat dead in its tracks with disciplined and deadly force. To them, nothing else matters other than the safety of those they are sent to protect even using their own bodies to shield them from harm.
The Vermilion Sentinels kit builds two multi-part resin miniatures;
2x Vermilion Sentinels
2x Base
Please note:
Miniature is supplied unpainted and some assembly will be required.
Character Unit Cards are not included and can be found on the Wild West Exodus website.
Miniatures are supplied with standard plastic bases. Base inserts are not included.