Wrath Of The Nautilus Detachment Set WEX212099001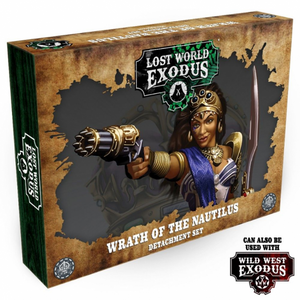 SKU: WEX212099001
Sorry, this item is out of stock
The crew has changed many times over the years, some decide to take their share of the wealth and settle down, some fall in battle and are given up to the depths and fresh new recruits come aboard whenever the need arises. Some faces have remained the same, however, such as the solid and dependable Violet Smee who, as Nimue's first officer, commands the Chowkidar with ruthless efficiency. Sardar Hardit Singh, The Nautilus' Boatswain is very protective of his Captain and is never far from her side in a fight. Erasmus Darwin is the resident engineering specialist and while he rarely speaks of his colourful past his knowledge of Enlightened Technology is clear to see in the power-chair he uses to move around in. Charlotte Anning is the ship's navigator and archivist, never short of the answer to any questions, given enough time to research it in the vessel's surprisingly extensive library. Neko Mei's role is a little harder to quantify but she has a number of skills including infiltration, stealth and close combat, this would then make her the Nautilus' 'acquisitions' specialist.


The Wrath of the Nautilus Detachment builds six multi-part resin miniatures;

1x Rani Nimue
1x Sarder Hardit Singh
1x Charlotte Anning
1x Neko Mei
1x Violet Smee
1x Erasmus Darwin
6x Bases

Please note:

Miniatures are supplied unpainted and some assembly will be required.
Character Unit Cards are not included and can be found on the Wild West Exodus website.